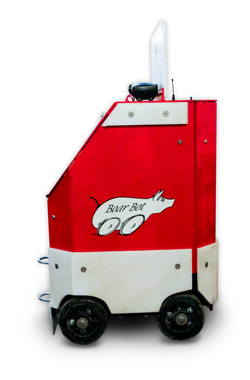 Boar Bot
Significantly cuts down on the time and labor required to heatcheck sows. Allows more natural nose-to-nose contact between boars and sows, with less stress on the boar.
Mechanized efficiency
Eliminate injuries
Increase farrowing rates by 2-10%
95% less boar-worker contact
Generate profit in the first 6 months
High technology and durable farm equipment
510 lbs. 4-wheel-drive traction, 2-speed efficiency, and only 19.75" wide
Options
Hearse to make light work of big animals
Side Guard to better focus a boar's attention
Stainless steel body for added life
Narrow Model that is only 17.5" wide and 475 lbs
---
Testimonial:
-Jeremy Robertson,
Head of Production, Brenneman Pork, Inc.

The boar bot is a huge labor saver. It increases our ability to have specialized labor and focus on production.