We are Swine Robotics, Inc.
We make safe and sustainable robots for agriculture.
---
"Most new tech becomes obsolete very fast. Take your phone for example, or your iPad: there's a new one every year. The Boar Bot is both a piece of technology and a piece of durable farm equipment. We are constantly innovating to make sure our robots aren't just futuristic, but future-proof."
"Our production increased by 10%. We replaced our cart-style mover with a Boar Bot and our boars are more active and producing better. It's a great machine!"
-Mike Maendel – Oak Bluff Colony
"The Boar Buzzard works great and saves your back! I don't want myself or any of my guys to be injured taking out a dead animal. It used to take 3-4 guys to get one out, now it takes one."
-Mike Inness - Galesburg, Illinois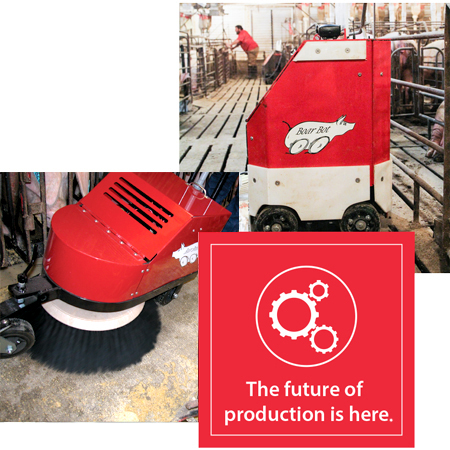 It wasn't that long ago that it took a dedicated team of employees to heatcheck sows; while one person lead the boar by hand down the rows of stalls, the other would heatcheck. This repeat interactions that could lead to dangerous situations. But it was just the way things were done.
Then, twenty years ago in a small shop on a South Dakota farm, all of that changed. The Boar Bot was born.
Conceived by South Dakota farmer Jerome Mack, the Boar Bot was an entirely new way of looking at on-farm tasks. The boar, once led by a dedicated handler, could be tethered to the mechanical Boar Bot and led up and down the aisles via remote control by one person, cutting the number of workers required to heatcheck down to one person.
From its first day at the 1999 World Pork Expo, the Boar Bot was a hit, becoming the gold standard used by pork producers to maximize boar exposure to sows, increase farrowing rates and delivering better and more reliable heatchecking outcomes.
Today, Jerome and the team of engineers and experienced producers at Swine Robotics continue to innovate, honoring the tradition of safety, reliability, and efficiency across a new line of mechanized bots aimed at making pork production safer and more efficient for producers worldwide.
1997
Original Concept

1998
First improved Boar Bot.Boar Bot

1999
Prototype BoarBot- First Sale

2000
Boar Hearse

2004
WashHand

2005-2012
Major Grain and Hog Farm Expansion.

2006
Boar Buzzard

2009
Boar Broom

2012
BinBot and Mack Robotics est

2005-2014
Sweep

2015
Boar Bot 2.0

2017
Robotic Fence

2018
E-Buzzard

2019
Trailer Washer

2021
Multi Bot 3.0